On Oct. 27, the attorneys and staff of the Frackville office of O'Connor Law put down their paperwork and turned over a green leaf when they embarked on an afternoon nature hike through Wolf Creek Waterfalls, outside of St. Clair. The falls is a prominent spot on Broad Mountain, one of two true mountains in Schuylkill County.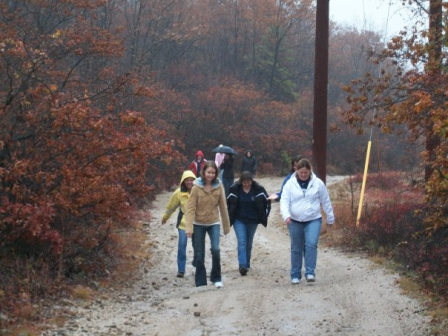 The hike was led by "Porcupine Pat" McKinney, the Environmental Education Coordinator for the Schuylkill Conservation District.
Attendees viewed colorful fall foliage, a Pennsylvania trademark, as well as unique plant life indigenous to the area including sweet fern, bluestem grass, and blueberry and huckleberry. As mentioned by Porcupine Pat, the site is a great habitat for bear, deer, and turkey. One of the more captivating views came from the top of the Wolf Creek Waterfalls, which was overflowing with water compliments of a few rain showers that recently passed through the county.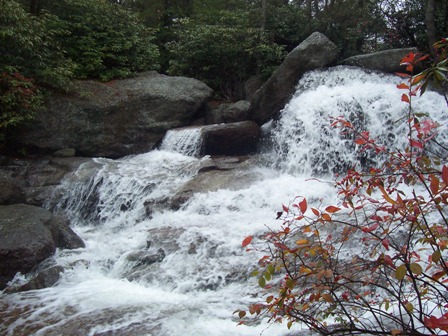 "A once in a lifetime experience!" commented staff member Zenaida.
Porcupine Pat also pointed out a type of rock, known as Pottsville Conglomerate, because it was first identified in the Schuylkill County area. It is found in many places in the world, and is also called "nature's concrete."
In years past, this area was a dumping ground for garbage and other discarded debris. However, with the help of the Schuylkill Conservation District, local residents have cleaned up the area and learned a bit about recycling in the process.
The Schuylkill Conservation District was founded in 1955 by local farmers who were interested in soil and water conservation. The Conservation District is dedicated to protecting, enhancing, restoring, and promoting the responsible use of the county's natural resources for future generations by partnering, coordinating, and fostering cooperation.
The O'Connor team learned about the importance of conserving natural resources to ensure their availability for future generations while enjoying some time together out-of-doors.
"It was refreshing getting outside in the fresh air and walking with the gang. We truly had a great time!" said staff member Jennifer.
Not a bad way to spend an afternoon!