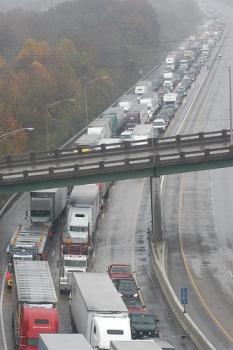 We've all seen it in the news: an accident involving a tractor trailer that brings traffic to a halt. Perhaps you've even been held captive in your own car when a truck overturned on a Pennsylvania interstate. It can be an inconvenience; but for those involved, it can mean life or death.
Tractor trailer accidents can happen for a variety of reasons, including:
Speeding: Trucking companies get paid to deliver their cargo on time and they bid against each other based on who can ship the freight the fastest and cheapest. To deliver their cargo on time, drivers must drive fast and aggressively, making for very dangerous conditions on the highway.
Overloaded trucks: When a truck is overloaded, it puts stress on every component of the truck, which can lead to catastrophic failure. Overloaded trucks cannot maneuver effectively, which can cause accidents when turning, stopping, or starting. Overloaded trucks can also degrade roadways and bridges.
Driver fatigue: Unrealistic schedules can force drivers to be on the road as much as 77 hours a week, legally. They may drive above and beyond that by forging travel entries in their log books to appear in compliance with all rules and regulations.
Improper maintenance: Maintaining a large truck can be expensive. Trucking companies try to cut maintenance costs, but less maintenance can raise the possibility of accidents from equipment failure.
A large volume of tractor trailers travel through Pennsylvania because it is home to a number of major transportation corridors, including Interstate 76 (the Pennsylvania Turnpike), 78, 80, and 81. These highways are convenient because they connect the eastern part of the country with the southern and western areas. Transporting materials and products over the nation's highways has become a regular way of doing business. But if proper safety measures are not followed, there can be deadly consequences.
An accident with a tractor trailer can be devastating physically, emotionally, and financially. If the accident occurred while you were away from home and traveling through unfamiliar territory, the situation can become even more complicated. Not only can it be difficult to find a local law firm, you need to find a firm that can handle the legal intricacies of a tractor trailer accident. Many of the offices of O'Connor Law are in direct proximity to Interstate 81, near Frackville, Hazleton, Wilkes-Barre, and Scranton; and Interstate 80, near Lock Haven, Williamsport, Bloomsburg, and Stroudsburg.

If you or someone you know has been involved in a tractor trailer accident, contact O'Connor Law. We've got offices in convenient locations throughout Pennsylvania, ready to serve you. And we've got an attorney team powerful enough to fight against the insurance companies to get you the compensation you deserve.