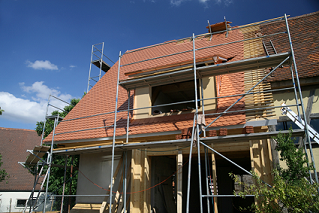 A recent article on BusinessInsurance.com reports that the federal Occupational Safety and Health Administration (OSHA) will begin to require employers working in the residential construction industry to use the same methods of fall protection that have bene used in the commercial construction industry.
The safety measures include guardrail systems, safety net systems, or personal fall arrest systems, most of which are likely to add costs to residential construction. However, these measures should lower workers' compensation insurance premiums and prevent job shutdown or delays if a fatality does occur.
The article states that this change is due to the high number of deaths related to falls in residential construction. OSHA says that residential falls account for almost 29% of all fall fatalities in the overall construction industry, with falls from roofs account for almost 35% of those accidents. Falls in residential construction account for more deaths than any other of the four hazards OSHA has identified as the leading causes of fatalities in the construction industry, including "struck-by" hazards, electrocutions, and "caught in-between" hazards.
This change requires that all residential construction industry employers must protect their workers who are involved in work at six feet or more above lower levels by conventional fall protection systems or by other fall protection measures allowed under the OSHA directive that has been in place for commercial construction since 1926.
"No worker should have to pay with their life trying to make a living. Our hope is that we can work together to prevent falls and save lives," said David Michaels, assistant secretary of labor for OSHA.
The new OSHA directive applies in all states except those that have their own occupational safety programs, such as California.