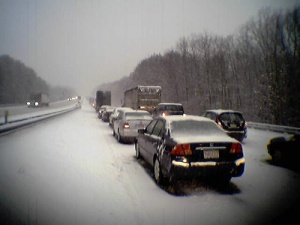 As old man winter makes his chilly home here in the northeast bringing snow and freezing temperatures, the Pennsylvania Department of Transportation (PennDOT) reminds motorists and especially tractor trailer drivers of a winter-related state law. In 2006 the Pennsylvania Snow/Ice Removal Law went into effect, which states that motorists will face severe fines if snow or ice that falls from their vehicle causes injury or death to other motorists or pedestrians. PennDOT urges motorists to remove all ice and snow from their vehicles before traveling. Taking a few minutes to clear your vehicle of snow and ice before hitting the road can save you money and could save someone's life.
It's important for tractor trailer drivers to clear the tops of their rigs not only to prevent any snow or ice from dislodging and striking other vehicles, but also to prevent delays when traveling through Pennsylvania tunnels. Sensors are in place on the approaches to tunnels to detect overheight trucks, including those with snow or ice build-up, and flash a warning to them. If a sensor is triggered, red signals are activated to prevent trucks that are too tall from getting stuck. The trucks must then turn around, which can take several minutes and can cause traffic backups.
In addition, snow-covered trucks that trigger the alarm but still continue through the tunnels can cause ice and snow to be pushed from the trucks onto other vehicles and the roadway causing hazardous driving conditions.
PennDOT offers a few tips for winter driving:
1. Motorists should always check the weather forecast before traveling. Road conditions for interstates and some limited-access highways is available by calling 511 while stopped in a safe location, or by visiting www.511pa.com.
2. Motorists who must travel should allow plenty of space when driving near plow trucks and, for safety reasons, never attempt to pass a truck while it is plowing or spreading winter materials.
3. PennDOT reminds motorists to pack an emergency kit for their vehicles. A basic kit should include non-perishable food, water, blanket, small shovel and warm clothes. When preparing an emergency kit, motorists should take into account special needs of passengers such as baby food, pet supplies, or medications and pack accordingly.

The attorney team at O'Connor Law has handled cases of negligence on the part of tractor trailer drivers. If you've been involved in an accident with a big rig, contact our office today for a free review of your case.